Free online portal for LAN and GSM sensors

HW group s.r.o. produces LAN and GSM sensors for measuring temperature, humidity, energy consumption, and more. HW group is the first producer of "LAN and GSM monitoring" products to offer a free online portal to its customers. The www.SensDesk.com online service displays and processes online readings from sensors by HW group.
The SensDesk.com online service is ideal even for small projects. Customers that find robust SNMP monitoring systems too complex for their needs can benefit from this new service. In just a few minutes, SensDesk.com can provide effective and reliable monitoring of customer's technology without any additional monthly costs. There is no need to install complex systems or buy another customer-side server.
The SensDesk.com portal is free of charge to use, there are no monthly fees
Mobile app for iPhone / Android
E-mail / SMS alerts
Features
Dashboard: Single webpage with readings from all sensors.
Alarms: Sends an e-mail alert or a text message upon sensor malfunction / value out of its safe range.
SensDesk Mobile: Status overview in a mobile phone app for iPhone and Android.
Simple configuration: HW group products can be connected to the portal with a single click.
Both the portal and the mobile app are provided free of charge, no monthly fees.
Up to 10 devices (IP addresses / SIM cards) can be connected to a single account.
There is no limit to the number of sensors per account.
Sensors data history is kept for 3 months.
Device or link failure notification (Heartbeat) for each device.
No installation, GSM and LAN sensors can be connected to the portal with a single click.
Sensors can be displayed on a map and filtered by location.
Detailed remote configuration of GSM devices (Ares family).
Charts of values for a specified period.
Only HW group products that support the HWg-Push protocol can be connected.
Fast response – sensor readings are updated every 15 minutes, or within 30 seconds if the reading changes (configurable).
Portal outputs can be connected to other systems (M2M solution, IoT platform).
Monitored events
Sensor value – value out of the specified safe range
Sensor disconnected – device is accessible but the monitored sensor is disconnected
Device disconnected – device is not available in SensDesk.com for more than 30 minutes
Supported devices (LAN and GSM sensors)
Ares 12: GSM/GPRS thermometer with text messages and E-mail
Ares 14: Remote sensor monitoring over GSM (GPRS)
HWg-STE plus: Web thermometer with two digital inputs for dry contacts
HWg-WLD: Water flood detection in a 2D area
HWg-PWR 3/12/25: Smart M-Bus gateway for energy consumption monitoring
Poseidon2 3266: Remote sensor monitoring over LAN
Poseidon2 3268: Ethernet I/O control and sensor monitoring system
Poseidon2 3468: IP thermostat with 230V/16A-rated relay outputs
Poseidon2 4002: Data center environment monitoring
HWg-SMS-GW2: GSM gateway for sending SMS alarms from other products
Typical applications
Air-conditioning monitoring: Monitoring air-conditioning units for IT equipment
Remote environment monitoring in IT: Power supply status, UPS, temperature and humidity monitoring, access control
Remote monitoring of technology / machinery: Status overview for all machinery and related equipment
Construction technology: Remote monitoring of concrete hardening, wood drying or other processes
Energy: Remote monitoring of diesel-generator status over GSM / energy consumption monitoring at multiple sites
Medicine: Temperature monitoring in refrigerators
Downloads

Product leaflet
Usage examples
Monitoring the air-conditioning at two customers' premises
An external IT consultant administers three server rooms for two different customers.
One customer uses their own SNMP monitoring.
The IT consultant created a SensDesk.com account, and thanks to the mobile app, always has an overview of the environment conditions (temperature, power, UPS, smoke and water detection) at each server room.
Alarms alert to:

Failure of any air-conditioning unit
Power failure anywhere
Communication failure lasting longer than 30 minutes, anywhere
Temperature monitoring in refrigerators
A dentist is responsible for proper storage of medicaments at two locations.
The medicaments must be stored at the specified temperature range.
In one location, a HWg-STE is connected to the LAN via a Wi-Fi bridge because it was cheaper to use a wireless network than to connect a cable to a distant refrigerator with medicaments.
The other location does not have an Internet connection; therefore, a HWg-Ares12 GSM thermometer with a SIM card and a data plan is used.
Temperature graphs are printed from the SensDesk.com portal and submitted to the regulatory authority.
Concrete hardening
A construction company sometimes uses an Ares-12 unit with a temperature and humidity sensor.
After pouring concrete, it is necessary to wait a few days until the concrete hardens.
The hardening time varies widely, and with a GSM sensor connected to the SensDesk.com portal, the overall construction time can be shortened by several days.
The responsible person can check the current relative humidity at any time using a smartphone with the SensDesk Mobile app.
A chart of the hardening process can be displayed at the portal website.
As soon as the target humidity is reached, the responsible person is notified by a text message.
Other works can then immediately start.
SensDesk Mobile for iPhone & Android
User account status can be monitored with the SensDesk Mobile app.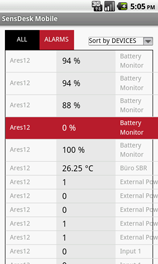 The app remembers your username and password.
With a single click, you can see an overview of sensors in Alarm state.
Sensor list can be ordered by device or sensor name.
Displayed sensors can be filtered by device group.
Fast response to changes
Values are normally uploaded to the portal every 15 minutes.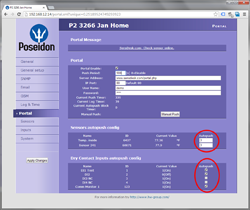 However, when "Autopush config" is set for a particular sensor, SensDesk portal will be notified about changes in a few seconds.
Digital Inputs (Dry Contacts)

When "Autopush" is checked, the device connects to the portal whenever the contact state (open/closed) changes.

Sensors

For each individual sensor, set the value of a change that will cause the update to be sent to the portal. 0 = AutoPush is off.
Each sensor is configured in the same units that it displays.
For example, we recommend to use at least 5% for humidity (AutoPush = 5).
For temperature, use about 2°C (AutoPush = 2).