FDR26 Optical Smoke Detector is designed to detect smoke and signal a fire alarm.
If the detector senses smoke, a relay is activated. Since FDR26 does not react to temperature changes, it is suitable for installation in data centers and telco rooms.
Optical smoke detection reacts to smoke that enters the detection chamber. Presence of smoke is indicated by turning on a LED and switching a relay. Smoke is detected only if it directly "hits" the sensor. The alarm ends when the detection chamber is free of smoke particles.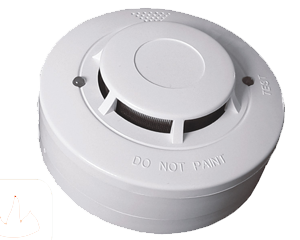 | | |
| --- | --- |
| Power: | 10.5...14V DC |
| Start-up time: | 60 s |
| Alarm indication: | Red LED, switching a relay |
| Relay contact: | up to 1A / 30V DC (0.5A / 125V AC) |
| Detection: | Contains an optical detection chamber |
| Protected area: | Max. 40 m2 (430 sq. ft), max. height 7 m (22 ft) |
| Distances: | Max. distance between detectors 8 m (25 ft), max distance from a wall 4 m (13 ft) |
| Operating temperatures: | 0°C to 70°C (32°F to 158°F) |
| Max. air velocity: | 600 m/min |
| Measuring period: | 3 to 5 seconds |
| Test: | Alarm can be activated by holding a magnet near the TEST point |
| Standard: | Conforms to EN54-7 |
| Operating environment: | Indoor |
| Cover: | IP 42 (EN 60 529) |