2D surface water leak detector

HWg-WLD is a network-enabled water leak detector with a water-absorbing sensing cable. HWg-WLD features a built-in web server, SNMP support, and e-mail alert to water flooding.
HWg-WLD can remotely control a relay output over the network (a relay is switched when a water leak is detected along the sensing cable).
HWg-WLD detects water leaks or water floods along the entire length of the sensing cable. The sensing cable detects even the smallest volume of water, ethylene glycol, or other conductive liquid. HWg-WLD can be ordered in two versions depending on the supply of power (power adapter or PoE IEEE 802.3af).
Product Parameters
Ethernet: RJ45 (100BASE-T) (PoE version IEEE 802.3af)
Web: Built-in web server
M2M communication protocols: SNMP, XML, Box-2-Box
Remote output: When a water leak is detected, a remote relay is activated over the network (any Poseidon / Damocles)
Water flood detector: 2 m (6.5 ft) leader cable +2 m (1.3 ft) sensing cable
SMS Gateway: Device can send SMS by external "HWg-SMS-GW" without any software.
Power:

HWg-WLD: Power adapter
HWg-WLD PoE: PoE (IEEE 802.3af) + power adapter (depending on type)
Supported software:
Configuration: UDP Config - IP address configuration and detection (with DHCP)
HWg-PD Trigger: Controls other IP devices, redirects alarms to SMS
HWg-PDMS: Logging of values, graphs, export to MS Excel, reports
CapTemp: Visualization on a map, control of outputs, alarm redirection to SMS
Third-party SNMP software
For programmers: HWg-SDK contains interface descriptions and examples of using M2M protocols in several programming languages
Water leak detection equipment overview
Water leak detection
Output
Power
WEB
Email
SNMP Trap
1D – spot detector
2D – area detector
LAN
1-Wire UNI (RJ11)
Relay (NO/NC)
HWg-WLD
Power Adapter
HWg-WLD PoE
Power Adapter +
PoE (IEEE 802.3af)
HWg-WLD Relay
12V / -
Flood detector 1W-UNI 3m
-
Flood detector LD-12
(OC)
12V
Usage example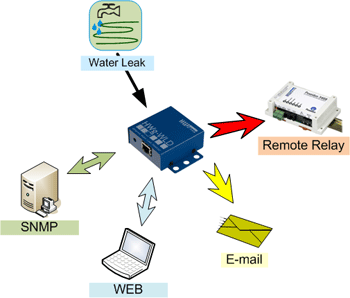 HWg-WLD can directly control relay outputs over the network. No additional software is necessary.
Supports any Poseidon or Damocles unit
State is transferred upon changes as well as periodically (default period is 30s). Uses XML over http.
The output must be in the "Manual" mode (no local condition for activating the output)
The user configures the remote device IP & port and the remote output ID (ID 151 = Output 1, 154 = Output 4)
If the relay is write-protected with a password, the user sets the password for controlling the relay
Output control can be tested with the TEST button
Downloads

Product leaflet

Technical manual
Pictures
Applications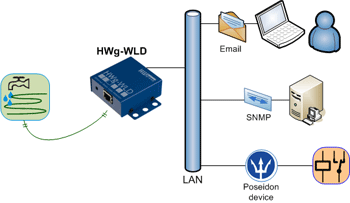 Typical applications involve monitoring of coolant piping in air conditioning systems or water detection around pipes in technical areas.
Detection cable laid along the walls
Under raised floors
Above suspended ceilings
Detection of water leaks in drip trays
Detection of water leaks under A/C outlets
The water leak sensing cable can be wrapped around the piping, suspended under the piping, or laid on the bottom of the pipe duct.