I/O over Ethernet

Damocles 1208 is a device with 12 remote inputs and 8 outputs over Ethernet with Web interface.
M2M communication for connection to SNMP and SCADA systems. Pulse counters on digital inputs.
E-mail and SNMP trap notifications of input state changes. Box-2-Box mode - outputs can be controlled over the LAN by another device.
When an input dry contact state is changed (closed/open), Damocles sends an e-mail with customizable text and/or a SNMP Trap.
Pulse counter on every input (32 bits)
Box-2-Box mode: Outputs can be controlled over the IP network using sensors of another device
M2M protocols: SNMP, Modbus/TCP, XML (over HTTP)
Basic features
Ethernet: RJ45 (10BASE-T)
WEB: Built-in web server
Inputs: 12 digital inputs (for dry contacts)
Outputs: 8 digital outputs (open collector, max. 24V)
Box-2-Box mode: Outputs are activated by alerts from other devices (Poseidon / Damocles)
Pulse Counter: 32. bit counter on each Digital Input (for connecting S0 pulses)
M2M communication protocols: SNMP, XML, Modbus/TCP
Reaction to changes at the input: SNMP trap, Email (editable text)
Mechanical: 140 x 90 x 40 [mm], wall-mountable, fits on a DIN rail
Support for programmers: HWg SDK
Supported software
HWg-PD Trigger: Controls other IP devices, redirects alarms to SMS
HWg-PDMS: Logging,conversion of pulses to energy, export to MS Excel, reports
CapTemp: Visualization on a map, control of outputs, alarm redirection to SMS
Third-party SNMP software
Usage example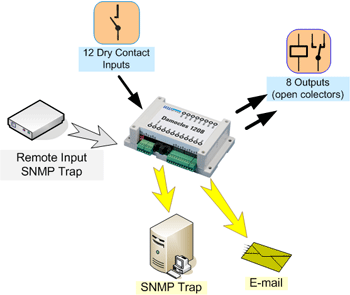 Remote equipment monitoring

Monitoring of A/C, UPS, security system status (status relays)

Energy consumption monitoring

Counting of pulses from electricity / water / gas meters. Conversion to price using HWg-PDMS in MS Excel.

Alarm alerts

Turning on a warning light or a horn upon alarm at another unit (over the network, Box-2-Box mode)

UPS and back-up generator monitoring

Fuel level, diesel generator status, remote start over IP

Security systems

IP surveillance systems (external sensors)
Equipment status, access control systems

SCADA: Connection of external inputs to multiple independent systems
Downloads

Product leaflet

Technical manual
Pictures
Energy consumption metering and export to MS Excel
Digital inputs on the Damocles unit support pulse counting. Each DI (Digital Input) is equipped with a 32-bit pulse counter, minimum pulse width is 50 ms. Current count can be checked over the web interface. Damocles can transfer your monthly electricity consumption in kWh from your electricity meter to MS Excel.
Use an electricity meter with pulse outuput (e.g. 100 pulses/kWh per IEC 62053-1 (S0) standard)
Connect the pulses to Damocles DI
Connect the input to HWg-PDMS, set the coefficient (100 pulses/kWh) in detailed configuration
HWg-PDMS generates an overview of energy consumption over a given period, either automatically or on-demand
Set a price per kWh and charge your customers
Box-2-Box mode
Box-2-Box mode lets you use a Damocles unit as remote outputs. Outputs of the Damocles unit signal the OK or Alarm states of sensors and inputs at other devices. Any Poseidon, Damocles or HWg-WLD device can activate the outputs of a Damocles 1208 unit over the network. This feature does not require any software.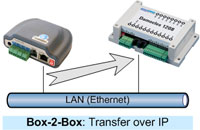 High temperature at the air conditioning outlet (Poseidon 3262) turns on a warning light in the IT department in another building (Damocles digital output).
7 water leak detectors laid out in one floor of an office building control outputs O1 through O7 over IP. All outputs control a warning light and a horn. In case of flooding, the horn sounds, and the indication of output states on the Damocles 1208 unit informs the operator about the exact zone.
Comparation of Damocles
| | | | |
| --- | --- | --- | --- |
| | Damocles 2404i | Damocles 1208 | Damocles MINI |
| Digital Inputs | 24 Dry Contacts | 12 Dry Contacts | 4 Dry Contact |
| + DI counter | | | |
| Digital Outputs (DO) | 4 Relays | 8 Open Collectors | 2 Relays |
| RS-232 configutation | | | |
| XML (over HTTP) | | | |
| Modbus/TCP | | | |
| SNMP, SNMP Traps | | | |
| SMTP Email | | | |
| SDK (Software Development Kit) | | | |