Connecting four 1-Wire probes (temperature, humidity) or contacts to the RS-485 bus
Up to six Spiders (24 sensors) can be connected to a single Poseidon 2250.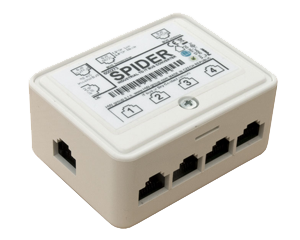 Spider simplifies large-scale installations. RS-485 uses CAT5 cabling with RJ45 jacks and achieves the longest distances. Typical applications include connecting temperature probes, humidity probes or door contacts for several refrigerators in the middle of the RS-485 bus.
Typical applications include monitoring clusters of refrigerators in a supermarket. One CAT5 cable connects a cluster of 4 freezers. Each freezer contains a 1-Wire FLAT sensor connected to the Spider. Individual clusters can be daisy-chained.
Probes can be connected to a "star" topology using patch cables and an S-Hub unit
| | |
| --- | --- |
| Environment: | Indoor use |
| Input: | 4x 1-Wire RJ11 probes (temperature / humidity) or contacts |
| Connects to: | Poseidon 1250 and 2250 |
| Interface: | RS-485, RJ45 |
| Power supply: | Powered over RS-485 Cat5 cable from a Poseidon unit, connector for extra power supply (jack for wall plug adaptor) |