SNMP Web relay

Damocles MINI is Web-relay with 4 digital inputs and control 2 NO/NC relay outputs over the Web and M2M (SNMP, XML, Modbus/TCP). Dry contact event email or SNMP Trap alert.
Control two remote relays and four digital inputs (dry contacts) with a Web interface. Switch a relay or check the input states over an IP network.
A typical application is the sending of an email based on Dry contact inputs, remote restart or remote relay control. Relay outputs can be controlled over M2M protocols SNMP, XML over http or Modbus/TCP.
4 DI digital inputs for contact connecting
2 DO relay outputs relay contacts (NC and NO)
Sensor value out of range: sending Email or SNMP Trap to several recipients.
Basic features
Ethernet: RJ45 (10BASE-T)
WEB: Built-in web server
Inputs: 4 digital inputs (dry contact)
Pulse Counter: 32. bit counter on each Digital Input (for connecting S0 pulses)
Outputs: 2 digital outputs (relays, 24VDC)
Box-2-Box mode: Outputs are activated by alerts from other devices (Poseidon / Damocles)
M2M communication protocols: SNMP, XML, Modbus/TCP
Reaction to changes at the input: SNMP trap, Email (editable text)
Mechanical: dimension 35 x 102 x 76 [mm]
Support for programmers: HWg SDK
Supported software
HWg-PD Trigger: Controls other IP devices, redirects alarms to SMS
HWg-PDMS: Logging,conversion of pulses to energy, export to MS Excel, reports
CapTemp: Visualization on a map, control of outputs, alarm redirection to SMS
Third-party SNMP software
Applications
Control the relay over network – switch relay by three clicks on the mouse
Remote Web-Relay controlled over IP (snmp / xml / Modbus/TCP)
Pulse counter: energy consumption measurement over IP.
Reading of the consumption in time from electrometers, flow meters, gas meters, ..
Monitoring of sensors of door opening, motion detectors, dangerous gas, etc.
Connecting of external inputs to SCADA systems
Remote control over IP - Opening of entry points (doors, gates, pikes and connecting of passage sensors)
Monitoring of back-up power supply like UPS and Diesel-engines
Camera systems (door contacts, PIR sensors)
Measurement of number of persons/vehicles - counting of indoor state and number of passage of persons/vehicles
Downloads

Product leaflet

Specifications

Starting guide
Pictures
Topology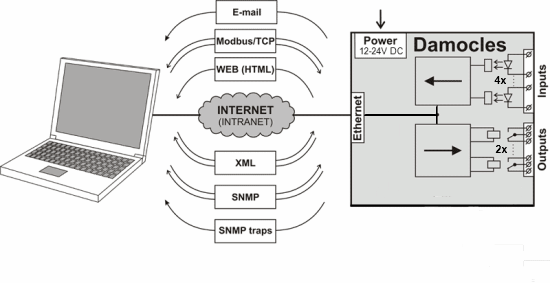 WEB (HTML)

The state of digital inputs and outputs is displayed on WWW page. The page is automatically reloaded every 5 seconds. On the main HTML page there are links to Flash Setup, update FirmWare and others.

XML

All values, the information about alarm state including, are accessible in .XML file (values.xml) and any application can easily log it from XML tags.

SNMP

SNMP is protocol for management of telecommunication devices, network infrastructure and related technologies. Damocles is fully controlled over SNMP.

Modbus/TCP

Modbus/TCP is industry standard for input of sensor values and sensors into visualization and SCADA systems. All sensors values are accessible over Modbus/TCP.

Alarms

SNMP Traps

In a case of Alarm, the device will send you SNMP Trap with a description of Alarm state to defined IP address.

Email

Apart from SNMP Trap, in a case of alarm the device can send you Email with a description of Alarm state.
Box-2-Box mode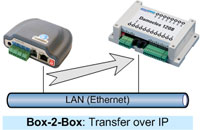 Changes at a dry contact input of one device (A) are sent over the network (SNMP Trap) and reflected at the relay output of the other device (B). Damocles MINI can react to changes at the inputs of another Poseidon or Damocles unit (without any additional software).
Example:
Too high temperature in the datacenter (measured by Poseidon 3266) turns on a warning red light in the IT department in another building (relay output of Damocles MINI).
Comparation of Damocles
| | | | |
| --- | --- | --- | --- |
| | Damocles 2404i | Damocles 1208 | Damocles MINI |
| Digital Inputs | 24 Dry Contacts | 12 Dry Contacts | 4 Dry Contact |
| + DI counter | | | |
| Digital Outputs (DO) | 4 Relays | 8 Open Collectors | 2 Relays |
| RS-232 configutation | | | |
| XML (over HTTP) | | | |
| Modbus/TCP | | | |
| SNMP, SNMP Traps | | | |
| SMTP Email | | | |
| SDK (Software Development Kit) | | | |