Ethernet thermometer with Digital Inputs
STE Plus is Web based IP temperature and humidity meter with two Digital Inputs for dry contacts control.
Supports SNMP and the free SensDesk online Hwg portal.
Optionally sends an e-mail when a contact is closed or the temperature is high.
Supplied with PDMS – Windows software for producing MS Excel reports.
Free monitoring software for all STE Plus in your network www.SensDesk.com
Product Parameters
Ethernet: RJ45 (10/100BASE-T)
WEB: Built-in Web server
Sensors: 2x RJ11 (Max 2 temperature or humidity probes)
M2M communication protocols: SNMP, XML, HWg-Push
Alerts (value out of defined range): E-mail
Recommended online portal: SensDesk.com – free online portal
Recommended Windows software: HWg-PDMS (logging, graphs, export to MS Excel)
Product Features
No SW necessary, built-in web server
Simple installation, supports DHCP
SNMP support (SNMP MIB included)
0.1°C resolution, display in °C / °K or °F
Sends e-mail if the temperature is too high / too low
Security protected with a password
Temperature range of included probe: -10°C to +80°C (+14°F to +176°F),
Outdoor probe: -30°C to +125°C (-22°F to +257°F)
Besides the included temperature probe, a second temperature or humidity probe can be connected.
Free Motoring Windows software (PDMS) included - Graph data overview and MS Excel export.
Usage example
A/C failure monitoring 


Temperature / humidity monitoring inside and outside of a rack, SNMP monitoring.

Environment and door monitoring over SNMP

Web thermometer saves heating and air-conditioning costs.

Cooler / freezer monitoring

Temperature monitoring; rising temperature indicates cooling fault.

Equipment and premises monitoring

Sends an e-mail if the cooler malfunctions. Logs operating and storage conditions.

Food storages

Monitors optimal storage conditions. With application software, technological processes monitoring (HACCP) - reports can be created.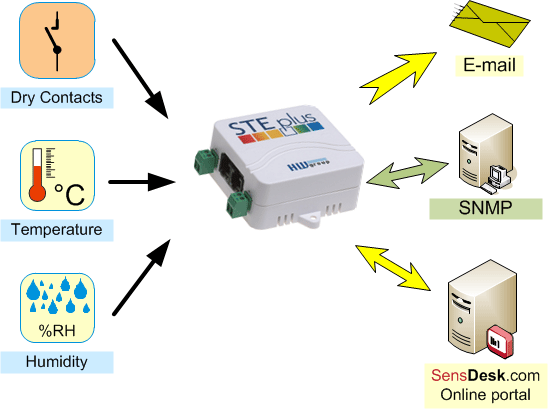 Downloads

Product leaflet

Technical manual
Pictures
Remote monitoring of 19" racks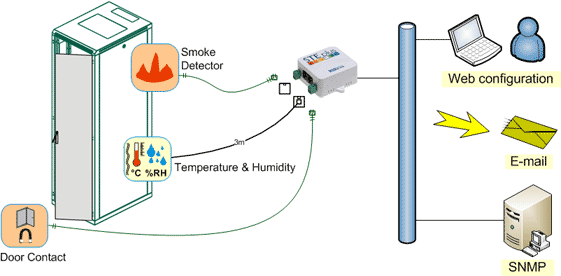 IP thermometer HWg-STE plus is placed in the cabinet
Temperature and humidity monitoring inside a rack
SNMP monitoring
Sends an e-mail whenever the door opens (to monitor access).
Second digital input can be used for other detectors:

Smoke (fire) detector
Rear door monitoring
Water flood detector
Power failure detector
and so on...
Several temperature sensors on a single screen – SensDesk.com portal
Two HWg-STE plus thermometers are connected to the www.SensDesk.com online portal.
Nothing to configure, simply connect HWg-STE plus to the network and enable online connection to your account.
SensDesk.com alerts you whenever a value is out of specified range, a probe is disconnected, or the Internet connection of your web thermometer fails.
All sensors connected to your user account can be displayed on a single tablet or phone screen in a mobile app for iOS (iPhone, iPad) and Android devices.